BMT - Logbook March 2007
This article was published Mar 01, 2007.
One more coal wagon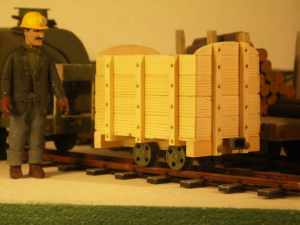 Never seem to get bored of these wagon projects..., here is one more coal wagon. The coal inside is 'scaled' to 7/8in. We got our first spring sun today, so I did sit in the garden and smashed a big rock of coal into 7/8in scale while I was siping a beer. What more can a train lover ask for...?
If you are interested, there is a CAD drawing on my Download page which you can download for free (it's in pdf format, so no special program except Acrobat needed (also free on the net)).









BMT Coal Wagon, Second series
First time ever I made and finished more than one wagon of the same type, for me that is a serie..