BMT - Logbook January 2008
This article was published Jan 01, 2008.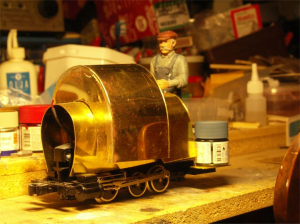 Mostly layout pictures this month.
Steamer
Started on a new sadeltank steamer, but haven't gone so far yet.




Walnut Creek, the new central module for BMT
This is built on top of my previous first attempt for this module. It got way to heavy, so removed the 1' by 3' braces and also only used one of the two plywood sheets. On that I added '' by 1' braces on each side instead. Now I got a very light structure and still sturdy.
The module is 45in * 72in (or 114.5cm * 182cm). With the cut of corners, that is absolute max what fits in my car with the back seats folded down.
The colour on some pictures are only added to get a first glimps on how it will look. Several layers of colour and texture is still to be added.
Only a few things to do until I can start add tracks and bridges, buildings etc.






















Modeltown Figures
compared to Carlo Spirito's figure.