La voie de 60 militaire Creation du système 1882-1914
This article was published May 17, 2012.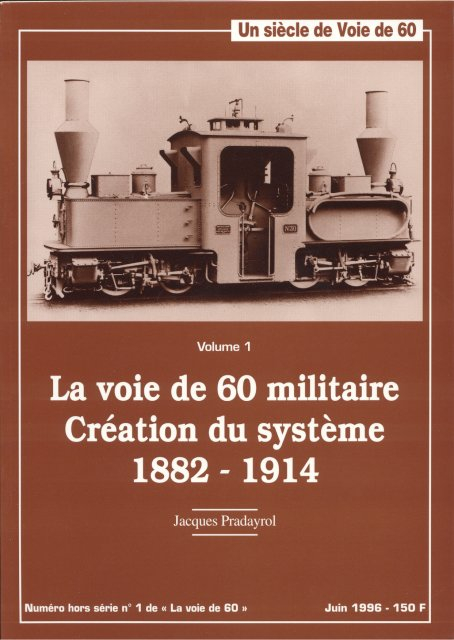 Author: Jaques Pradayrol, printed 1996.
Publisher:
ISBN: 2-9510088-1-3.
Pages/Size: 112 pages, 8in * 12in
Price/Avail: Costed 150 F.
This book is in french, but also contains brief text in english.
TOC:
Decauville
Pechot System, general presentation
Pechot System, description of materiels
Biography of Colonel Pechot, the man behind the system
The Pechot-Bourdon locomotive
Descript:
This book is about the Pechot system which later also got transport system for the french army during World War I. After I found this book, I did extend the time-period for my modeltrains to include also the Pechot system. For whose who love timetables, airbrakes and normal gauge tracks and who thinks two-foot is just toys, they just must read/browse thrue this book. It explains the complete feeling with a train-system which complete with locos, cars, and tracks moves guns, soldiers and supplies for each day and night, in spite of daily bombardments. I'm not defending the horrors of war, I am fascinated by a transport-system which was the most high-tech available at the time.
Recommendation: Absolutely! A Must for freaks.