Cooper Craft Wagons in 16mm scale
This article was published May 17, 2012.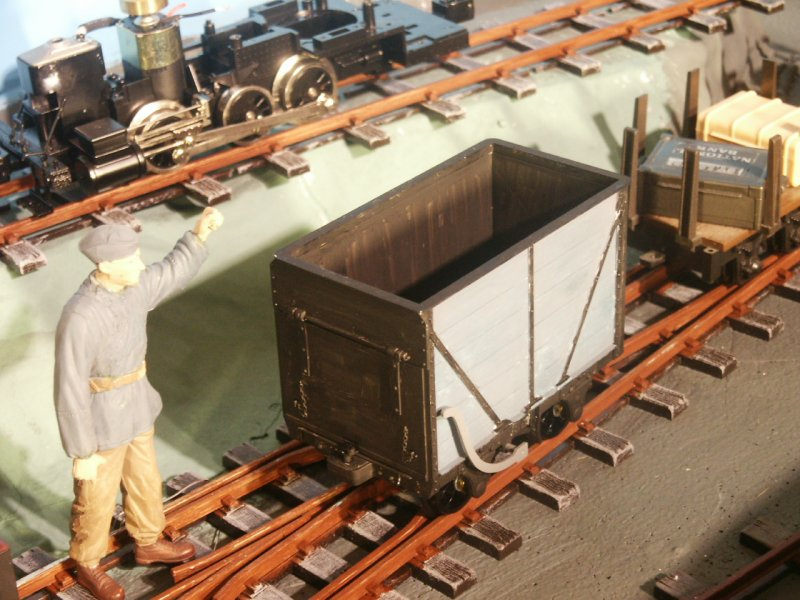 Ken Cooper, a friend in UK, gave me the tip on Brandbright replacement wheels for Cooper Craft wagons, when I asked him about spoked wheels for 32mm gauge. At first I was only interested about the replacement wheels, but after a while an interest for those Cooper Craft wagons arose aswell. I did mail to them asking if only the metal parts in there kits are available to order, and they replied that all parts are metal. Somehow they must misunderstand me, because when my kits arrived (I did order 4 coal and 2 bolster), they were all plastic except axles, washes and bearings... Well, I was pleased anyway, because these kits are great! If they will be included in my future 19mm fleet is not decided yet, but for sure I will order more of them.
This is 16mm scale and since I model in 19mm, details are pretty close in size. Also, this is a rather big wagon if you compare to my figures I placed beside it on one of the pictures below. All details except maybe the wheels, are excellent. Included in the kit are also scale couplers like the ones on the package. Not really practical if you intend to use your wagons, more for good looks on the mantelpiece. I did use the link and pin, since I want to be able to run them in a normal way.
L.N.W.R. 2ft Gauge Coal Wagon
This was my first wagon of this type I ever put together, but I still found it very easy. The plastic is of a very good quality and easy to work with, also takes epoxy well.






North Wales Timber Bolster
This kit also makes a great open wagon, if you odmit the bolster in the middle.





Croesor Sheet Iron Wagon
This is the type I will go for as my mine wagons, at least the most numerous ones will be of this type. I am already working on another type in brass where the complete box is flipped to the side, but making my own if I want a string of them will take time... also boring to build same model again and again. These wagons will give me just that, a real mine train, not just a bunch of odd different wagons.





Ffestiniog Railway Slate Wagon
Slate wagons does not really fit in at all on my little estate line, but I couldn't resist.. This is from my second and third order to Cooper Craft.