Combat Boat 90H, Painting
This article was published May 17, 2012.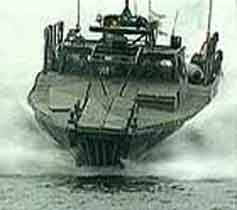 From the start I realized that I had to invest in an airbrush to get it right. The only problem was that the only experience I had with airbrushing was with ordinary car paints used for touching up the paintwork. I used them to paint my first moped when I was about 15... But, after looking at the video that came with my airbrush and practising with just water first and with paint on paper later, I was ready to paint my boat. I didn't buy a compressor right away, instead I did use cans of compressed air. I can't recommend this, for two reasons: Firstly, the cost. One or two cans are fine, but I would need at least 10 or 15 to finish my boat. Second, pressure does vary over time in these small cans. You can put the can in a bucket of warm water to improve performance, but the problem remains. As I write this I have ordered a compressor, but it has not yet arrived. I surfed around, and found that the price varies between about 750 SEK to a top end in the region of 1700 SEK. Presumably there is a difference in quality, but all the airbrushes I checked were intended for hobby painting - how hard can it be? Anyway, if you've got the money, there are specialised artists compressors costing thousands of kronor...
Colours
Through sheer luck, I got hold of a sample of the original paint; I met a friend who works full time making models for companies. I still owe him for this. He was in return interested in my model; as I wrote in the original story, he may be able to make finished hulls in plastic for those who want their own CB90 - send an email if you are interested.
Airbrushing Tips
Teaching my readers how to use an airbrush isn't the main purpose of this page, but I might as well present a few 'lessons learned'. First, you need lots of patience and time! Most of the tips on the accompanying video were good. Secondly, light! Don't work in bad light, and make sure your work area is lit from behind you rather than in front of you. It sounds basic, but I still made these mistakes. This made me over-spray, leaving pretty little ripples of paint on the sides... but at least this was easy to correct while the paint was still wet, I just wiped it off and painted a new layer right on. Work away from inquisitive children, and don't allow football or sports near your workdesk...
I found a syringe very useful for measuring paint and thinner into the airbrush cups. The paint should have the consistency of milk when spraying, and instead of trying to measure directly from the paint pot I used a syringe to suck up the paint. I sucked up about half thinner, half paint; this meant I also got a rather good mix already inside the syringe before actually adding it to the airbrush, and I also got a clear view of how much of each I used.
Masking
Masking is another subject. I carefully applied the primer with a brush and left it to dry for a few days. Then with my airbrush I got several different nozzles for different type of work; wide spray, fine spray, fine lines, etc. I first worked with the wide-spray nozzle for the first layer and then changed to sharper nozzles for the different fields in the camouflage. Doing so I was not fully aware of how much dust the brush was making. The first layer with the wide spray, did not deposit much dust at all, so the switch took me by surprise when I found dust crawling under .e.v.e.r.y. piece of masking tape... this was not on the video. Really, I like the idea of a video in the package, but a paper manual could do the trick just as well. Anyhow, this is the life of a beginner rushing too fast. The type of tape I use is Tamiya Masking Tape; it's very good, but also expensive. I used this only for marking edges directly on the hull, but I used ordinary painter's tape for fixing the masking paper (or in my case, old news papers). I also found ordinary cheap masking tape very useful. It looks the same as painter's tape, but the glue is not so aggressive, which was useful when I ran out of Tamiya tape... But when it comes down to edges where you really use a lot of paint, there is nothing better than Tamiya tape!
Instead of using my plan originals, I tried to print from my site and use the camouflage picture as you would; this made me realize that I have to re-scan them, as it was difficult to see the different field numbers. I have had several emails about my CB90, but not one has mentioned this.
Tools
I use an Aztek A470 airbrush, with a generic compressor with a tank attached for smoother pressure. Having been airbrushing for some time now, I really am considering building a racing boat in the future which I could paint candy red and then add a nice picture of some kind with lots of fancy shading and stuff. Airbrushing really is fun!
Update on paint
Here is a couple of newly taken pictures on the paint, taken July 2006.