Monitors, Swedish Sölve
This article was published May 17, 2012.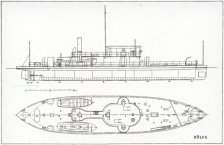 I did by pure luck stumble on papershipwright which sells a good looking kit of the swedish Monitor Sölve. Now.. working in paper in 1:250 scale is not for me, but as a working R/C model in 1:24, that would be nice !! About the same time I found this, I did hear a rumour that www.marinlitteratur.se was about to publish a new book called "Pansarbåtar i Sverige" (Battleships in Sweden). I did mail to them and was able to get a copy of a very good building plan over Sölve.
When I got the plans I started to prepare this project more in detail. I now had both the original building plans and a new model kit plan. I decided to use both. The real thing was 39 meters so a 1:24 scale model will be 162.5 cm, rather big.. good with space inside since I plan to install not just motors, but also some kind of gadgets, for example working gun (at least smoke n sound).
As usual, click on the pictures to get a bigger view.
Some inspiration
model pics by permission from David Hathaway at www.papershipwright.co.uk.
This paper model hasn´t the usual sun roof installed, which the original plan have. Part from that, these pictures are great specially if you click on one of them, to see the enlargement. They very clearly shows how a R/C model would look like. David´s model is really good, hard to see that this is a paper model in 1:250 scale!