BMT - Logbook August 2011, Cat City
This article was published Aug 01, 2011.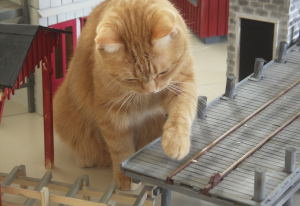 A few final shots of my 7/8in scale buildings before I tuck them away in the attic.
Welcome to Cat City
I am working on a major cleanup in my hobby room. Both because it was a while ago since last .. it´s needed, but also because I need to make room for the next project - going from 78n18 scale to 120mm scale. Even if my hobby room in the basement is big, I managed to fill it up since we moved here back in 2004.
I had been thinking several weeks about what to do with all the 7/8in stuff, specially the layouts and buildings which is so huge they can´t be stored in boxes. Today I decided to move at least the buildings to the attic, cause I can´t either sell them or throw them away. I am very pleased with them, even if it is long gone and finished projects.
Before I did that I wanted a few final shots of the buildings together and while I was firing away I noticed our cat got very interested in what I was doing, so I let her "walk in" to get an extra sense of scale and touch to these photos, 7/8in scale really is huge... It took her one minute tops, before she lost interest and during that time I did take as many shots I could, but as you can see not many were sharp .. Really got my proof for it´s time to invest in another digital camera, our Minolta A200 is singing on the last verses .. Taking pictures of a curious cat in Cat City was like taking photos of kids - she is always in motion ... and the auto-focus got zooming in and out all the time and never seemed to find the targets I pointed out.. But, we haven taken thousands of photos with this camera during the years so I guess it earned it´s pension ..