BMT, Showcase - Locos
This article was published May 17, 2012.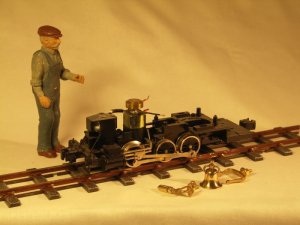 On this page I will present my 78n18 locos (1/13.7 scale on 32mm gauge tracks mimicking 18in in real life). At the moment there is only one RTR and numerous motor chassis who hasn´t leaved that state..
L01 Steam Loco
This is a Lionel steam loco I stripped from all the parts I do not need for my loco. Eventually this will look more like 7/8in scale..




L02 BabySim
a RTR model from Simply78. See also the 7/8ths forum. The prototype you can see at the Simplex locomotives site with the direct link at 10HP babySim.