Howto Articles - First Wagon Project
This article was published May 17, 2012.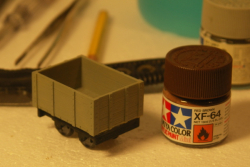 This article describes how to build that first wagon in 7/8in scale. All steps are by purpose described in detail, if any of them feels to obvious just skip it and go to the next. Important; Read through at least twice before you start, some steps needs to be done in correct order.
It also helps to know a bit about next step before you actually start with it. In this example we will build a wagon for 32mm gauge, if you plan to make yours for 45mm gauge, do not forget you need extra space for the wheels to fit.
The picture to the left shows Steve Bennett´s nice little Gn15 wagon. This is the one we will copy for 7/8in scale.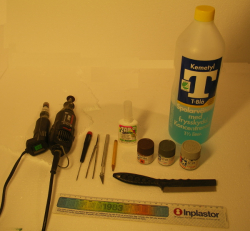 Tools
Very simple hand tools are needed. I use several motor-tools (Dremel) so I do not need to switch all the time, but standard middle-grade sandpaper and even a hand-driven drill would work as good. Motor-tools only makes it faster and more comfortable. Second you need a good saw. Any smaller type would do, but you need sharp small teeth´s on it. Normal carpenters white glue and some SuperGlue (CA). If you wish you can skip the white glue and make everything with the SuperGlue. In Sweden we have SuperGlue which does not smell, try to find some yourself to, you will thank me for it... Several hours with normal SuperGlue makes your head spin due to the fumes, it smells alot!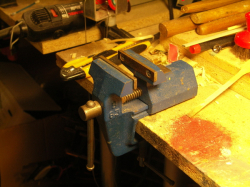 Some kind of wise or fixing device is needed. I did buy a small one at my local hardware store which can be attached to any table with a screw in under.
Paint, you need car screenwash and Tamiya acrylic colours. One flat black, one red-brown and one middle-light gray of your choice. Again you can use other paint as well, but make sure it is flat, we do not want any shiny areas on our model, it should look as if it had rolled many years, unless you want it to look as if it just leaved the workshop for the first time of course... Plus some brushes, both a middle size one and a very tiny thin type for details.
Tweezers and a philips screwdriver is handy to hold the rivets when glueing. You will also need a heavy cutter to minimize the nails in length. If you skip the rivets, you can skip the heavy cutter as well. A wooden clothes-peg is needed also.
What to buy?
There are a few commercial parts we need which isn´t so easy to make ourself. We need wheels, axle boxes, couplers, "L" shaped metal strip (or plastic), wood strips and brass nails. At the moment there is only two sources for wheels. Sierra Valley and Talisman (sofar Talisman only makes curly spoked wheels). Axle boxes can be bought from Talisman, Sierra Valley or Back2bay6. Couplers can be bought from Talisman or Sierra Valley. You could use some parts from the 16mm scale market, but be aware, the difference in scale is in fact very large. 16mm is 1:19 and 7/8in scale is 1:13.7 ratio. That makes most parts from 16mm look very tiny in 7/8in scale.
"L" shaped metal strip (or plastic) and wood strips could be bought at nearest hobby-shop. Brass nails 2mm thick and with round hat, can be found at nearest hardware store. The nails will only be used for decoration (rivets) so you can skip them if you want. You need two types of wood strips, 2*14mm and 7*10mm. The "L" shaped metal strips (or plastic) needs to be about 5mm wide on both sides, thickness doesn´t matter.
Making parts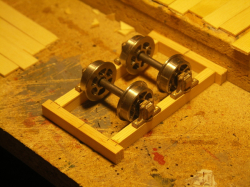 We start with making clear how big we want the wagon to be. 7/8in scale means everything in real life is 13.7 times bigger than on our model. One 7/8inch (22.2mm) on our model, is one foot in real life (304.7mm). I did take the measures from a small Gn15 wagon I had at home. (Gn15 is 1:22.5 scale using H0 16.5mm gauge tracks) I did take every measure, multiplied them with 2.6 and noted it down on a paper. I did come up with the measures; Length = 112mm, Width = 72mm, Height = 60mm (ex frame and wheels).
First we will make the frame. Take 7*10mm wooden strip and cut up two 98mm long and two 70mm long. Put them on the table and put the axle boxes on the wheels. Position the wheels with the axle boxes on top of the loose frame, DO NOT GLUE. Make sure it looks OK and that you have at least 1mm free space on each side between the wheel-axle and axle boxes. If not, the wheels will not move properly when assembled.
Now take a ruler and measure how much space you have between the beams. Is it straight? Take a pencil and mark on each end piece where the sides are positioned, also mark the middle so it gets easier to mount the couplers later.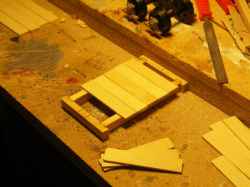 Second we will make the floor. Take 2*14mm wooden strip and cut up 9 pieces 72mm long. After cutting take your motor-tool (or sandpaper) and grind both long edges on one side of every piece. Hold your motortool (or sandpaper) in 45 degree angle against the wood. Only slightly grind it down, about a quarter. We do this to make each joint to be more visible. DO NOT GLUE.
Third we will do the sides of the box. Take 2*14mm wooden strip and cut up 8 pieces 112mm long. Same here, grind the long sides with the motor-tool (or sandpaper) but this time grind all long edges on both sides. Do not grind to much so the edges form an arrow, we only want a slight uneven grind. The inside of the box will be visible, so we want that side to look nice to. Do the same with the 8 end side pieces, but these should be 68mm long instead.
Fourth we will make the corner metal strips. You could also use plastic ones if you want. Position 4 side pieces together with one floor piece standing up. Measure the height of them. It should be about 60mm, but if you did choose to use different strips for your sides and floor you might come up with a different measure. Now cut up twelve pieces with the length you just got, one for each corner and two for each side and ends.
Next we need to drill holes for the rivets. If you do not want rivets on the sides, skip this. You could buy finished rivets or nut-looking ones from a hobby-store, but in this example we will use cut-off brass nails, cheaper, easier to get and looks as good when painted. Take a pencil and draw a line along the middle of each strip. Next take a hammer and a big steal nail (or special tool if you have). Make sure the steal nail is sharp. Make a small punch on the pencil line on each spot there you want a rivet. We need this little mark to make the drill stay in place and not walk around when we drill.
Rivets; Take a wooden clothes-peg and cut of the pinching end so you end up with a tool which can pinch very close. Put one brass nail with the hat end in the clothes-peg. Squeeze with one hand and cut of the nail with the other. Leave only a short bit, around 2-3mm. Even if the nail is small, you will need a rather heavy metal cutter. Make at least 6 rivets for each strip, depending on how many holes you made of course...
Stain the wood and paint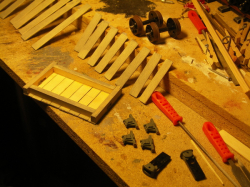 The recipe for making wood stain comes from Steve Bennett in UK. Take a jar and add about a teacup (not from your finest china..) of car screen wash. Take a bottle of Tamiya acrylic light gray colour and add about a quarter of the bottle. Mix thoroughly and test paint on a piece of left-over wooden strip, same type as you just made the side pieces of. The colour will change a lot when it dries, but if the colour is very light now, you could continue and add some more colour to the jar. When you are confident that you have the mix you want, paint all wooden parts with it. While it dries, do paint wheels, axle boxes and all metal strips (or plastic). Not the nail hats, we paint them later. Only paint the metal strips on the side you want to see, if you paint on the backside (the side against the wagon) they will not glue so well.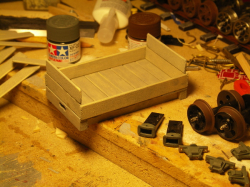 Assembly
The reason for not assemble the parts before staining them, is that the glue would protect the wood from being stained. (believe me, I tried...).
Now we start with the frame again. Take your frame pieces you made and position them in front of you on the table. As it says in many hobby-magazines, "test-fit twice, glue once". When you are confident it looks OK, NOW glue them together. Again, white glue works fine, but I am mostly impatient, so I use SuperGlue instead. Don´t forget to position the wheels with axle boxes on top also, before you glue the side beams together with the end pieces. We do not want to end up with wheels which doesn´t fit, because we forgot to test before we glued the frame together...
Next is floor. Again we need to test-fit. Often you end up with to much space, or to little. It happens that the floor pieces is just enough to fill the frame, but not often. This is the reason I made the measures so exact so we might avoid it. If you like me end up with to much/little space anyway.. (I like a half of a mm between each, it just looks nice), you need to decide where you want a special narrow piece to be placed. I mostly put my adapted piece in one end, but if you want the wagon to look more aged and repaired several times, you can by purpose put several pieces with different width in the middle. These should also have more/less stain then the rest pieces to look out.
Next is sides. We glue one level at a time. The long sides should fill complete side and the end parts should get in between. Again take care and always test-fit each step before you glue. Start with the end pieces, add glue and put them in place. Make sure they are centred. When dry do the same with the side pieces. If you use white glue you need to wait a while before you glue next level, but with SuperGlue it gets mounted very fast. TAKE CARE OF YOUR FINGERS, SuperGlue will very easily glue them to...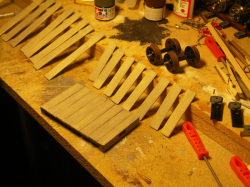 Next is metal strips and rivets. In this case white glue will not do, you must have SuperGlue or equal. Even if we used SuperGlue now, we need all metal strips to really be fastened good. Leave it for a while, at least 30-60 minutes, maybe more. SuperGlue glues very fast, but doesn´t really harden right away.
Now we need to drill some more. Each metal strip has a hole for each "rivet" we made, but the wood in under does not. This step needs to be done with utmost care, you would else very easily drill to much and you end up with a hole right through. One or two maybe doesn´t matter, but it will look bad if every hole goes through the wood. When all the holes are made, it is time to put the rivets in. Tweezers are recommended unless you have very small fingers.. Put in all rivets on one side and start to glue them in place with SuperGlue. The rivets are very small and holding them in place with a small screwdriver/pencil while you glue will prevent you from using words not printable here...
Now it´s time for some rust paint on the rivets (when the glue dried). When doing so mix rust paint (for example Tamiya red-brown) with screen wash in a 75/25 mix. By adding 25% of screen wash to the rust paint, we make it flow as it normally would if the wagon were put out in the rain for several years. We do not want it to look painted, we are trying to achieve a rusty finish. Therefore it is important that our rust paint mix is very loose. Actually good if it starts to flow a bit. If it flows to much, take a piece of paper or cloth with a few drops of screen wash in and dip of the excess. This part is not so easy first time if you are unfamiliar with painting with a very thin mix, but you will learn by doing.
Finished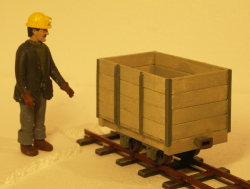 Now we have come to the part there it makes sense to read through complete text, before you actually start. What remains is two things, the couplers and wheels. Depending on which coupler-type you choose and what height you need them to be, you need either attach the couplers now when the wagon is finished, or like me who uses LGB link-n-pin couplers, needs to attach them in first step when we made the frame.
Second, we can not attach the wheels before we know how much space the couplers need. Take your time before you glue the wheels and axleboxes in place. Put your wagon upside down on the table. Put your wheels with axleboxes in place there you want them. Stand up and look down on your model, does it look straight? It is very import that you get your wheels in correct angle, else it will easily jump of the track each time it reaches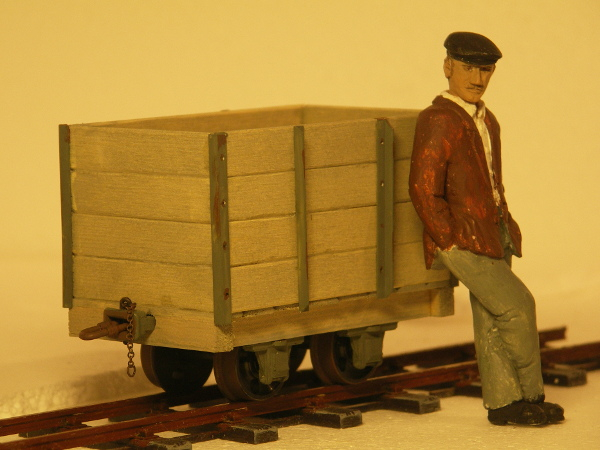 a switch or uneven track joint. When your done staring at your master piece, add some superglue to each axlebox.
If you plan to use your wagon in the garden (I only run indoors), you need to strengthen it a bit. For example you could drill a few holes through the frame there the joints are and then put in uncut brass nails and glue them in place. You will also need to fasten the couplers and axle boxes in a much more secure way. I would recommend small screws or NBW from your local hardware store.
Good luck! Don´t forget to show your friends what you have done.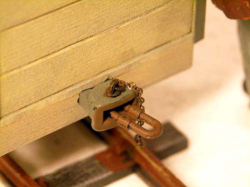 Sources
Sierra Valley - Wheels
Talisman Castings - Spoked wheels and all sorts of details.
Back2Bay6 - Axle boxes and some details;
Tools and brass nails -Your local hardware store
Tamiya colour, wood, metal and plastic strips - Your local hobby-shop
Car screen wash - Your nearest gas station...
Pepper7 - More Gn15 inspiration from Steve Bennett
Enlargements