BMT - Logbook August 2010
This article was published Jan 01, 2010.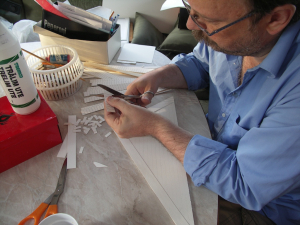 This month I have worked rather much on the Borkum Railyard.
Top photo shows me on our vacation in the caravan cutting bricks from hardcard. Both first and last time I did that.. It was fun at first, but the need was endless... I stopped counting at 300.. have no idea on how many it got in the end.
Deliveries
A new loco from ETS to kitbash one day and wonderful window frames specially made by Johan "Jojje" Gustavsson.

Factory building fronts
Vacation meditation - making bricks from hardcard, several hundred made ... zzzz zz zzz



Making ballast
Couldn't find same aquarium sand I used before, so I did test some sand from our backyard pile. It happen to be a great hit, this sand was much better with perfect colour and texture.

Borkum Railyard
This month I also got going with the Borkum railyard.