SEMO DayCruiser Kit, the Hull
This article was published May 17, 2012.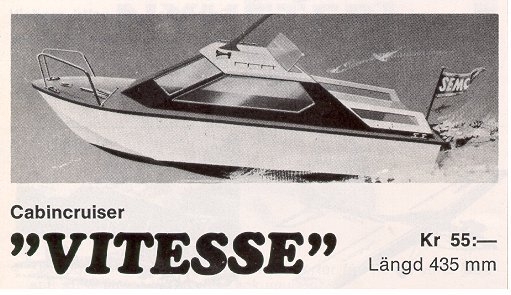 I did make my hull much the same as I did with my CB90, each main frame I got from the original plan, but since the stem frames was not included on the plan, I first did these in 'pitza-box paper'. After I got the shape I wanted, I did use these as templates for the real parts. The material I use for these is airo-plywood, 0.8 mm thick for the skin and 1.5 for the rest not curved parts, frames, deck, sideboards etc. For better surface, I did glue on 5*5 mm balsa-lists on the edge of each frame and on the underside of the deck.
Methods
I'm a beginner myself, so I'm still testing working methods. With my CB90 project I did build the hull upside-down. This worked very well for me, so I did the same with this project. I did some measurement on the original plan to make the stern-frame right, but after that I haven't really used that plan so much more. It was the 'starter' for this project, but the 'main-dish' is a mix of the original plan, old boat and outboard engine leaflets and alot made-up myself. For example I got many ideas from old Glastron & Johnson leaflets from '77 there I founded how I wanted my wind-shield to look like (GT150, out of order today), and in an old Johnson outboard engine leaflet I founded much of the rest. These ideas does not fit right off on this boat, so I will have to alter them slightly. More on this in next section (making the deck and wind-shield).
Tools
Materiel for this complete boat cost only some hundred SEK, but it is not easy without tools. However, the tools you reuse from project to project. My first advice, if you do not already have one, buy your own DREMEL tool. This is my most used tool of all. Except this I use ordinary hobby-knifes, files, wood-glue (water-resist..) and a set of different clothes-picks, map-pins and such to hold pieces on place while glueing. Also old medicine cans filled with lead bullets (from your local weapons store) is a must for holding things in place. Later on I have also bought a Aztek airbrush with compressor, but this you could consider in a later stage. Ordinary brushes also works fine, if you are careful and paint many thin layers.
Materials
Most parts are made of plywood (0.8 / 1.5 mm thick) and balsa. For the details on deck which I can't find or to expensive in a hobby-store, I use brass. For some lists which will hold up something or to easy to break, I have used 'ordinary' wood instead.
Engine
Before you start to add some glue, you should decide which kind of engine you will use. I did from start choose to have some kind of z-drive or outboard engine, so I do not need to think of the props-axle for an inboard engine. If you want to make your boat a cheap one, you should still consider this. Both z-drive and outboard engines costs much more than an simple good old inboard axle's. But,.. for me z-drive looks much cooler..
Images sofar