SEMO DayCruiser Kit, Paint
This article was published May 17, 2012.
Paint always are divided in three parts, sanding, primer and finish colouring. The sanding procedure is a tedious part. Also when one thinks ready and putted on the primer, small blobs occurs. So my suggestion, take good care of this part, it is extremely boring, but necessary... Primer is just a first layer and last part is the real colouring. Don't think yours done until your done..
The picture below of the police version, is the third and last type which existed with the same hull as the day cruiser.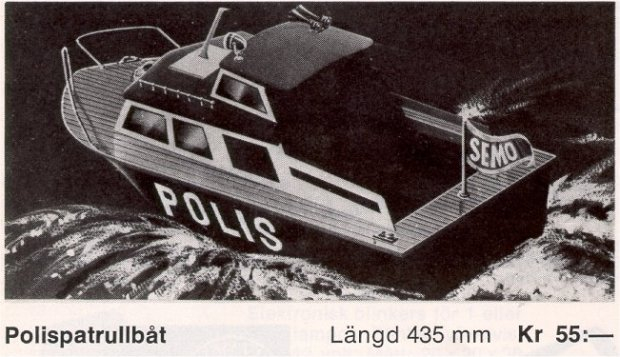 Sanding : I use sanding paper of ordinary kind from any wooden/tools store, just fine grades. For putty, I use a special modelling type called 'Modellspackel' from the swedish HB-Modell firm. It is a extreme fine type, which collapse almost nothing after drying (at least when putted on in thin layers..). I have tried with many different types used for wood, but no one as good as this. I first sand complete boat, put on putty over the night and sand once again after. I do not put on any more until first layer of primer has dried. After first primer, it is much easier to see where more putty is needed and procedure starts again, and again...
Primer
According to books, only one layer of primer is needed, but I always use at least two. First layer sucks in almost completely in the wood and second is needed since sanding always grade of on some places. Also, primer is much cheaper than metallic colours.. You anyhow need to get a good finish before real colour is in any use. Also, don't forget, plywood is not as flat as you think. Even plywood have grains from the wood, which we need to straiten out.
Finishing Colouring
Since this a project for beginners, I did settle on painting with ordinary brushes. Now after, I can not really recommend it.. I should have used my airbrush. In any case, several layers are needed for both types of colouring. If you use airbrush or equal, you also need some ending layers with clear coat. Biggest and most important mistake here I think, is to put on to few and much to thick layers of paint. This is the first and main rule. Also, don't forget to very easily sand of between each layer. If you get blobs on first colour layer and not sand them of before the next, they will go bigger and bigger for each layer added.. Only sand there needed and use extreme fine grade sanding papers. With airbrush, put on at least 3-4 layers and end with 2-3 layers with clear coat. With ordinary brushes put on at least 2-3 layers, possible more, depends on the type of colour you choose.
Decals
I made mine with my computer. One copy on paper and one on a floppy. Then I did visit a firm in Gothenburg called SystemText. They makes fantastic decals, but expensive. Another version is to phone around friends if anybody has a special colour printer, which accepts decals. Laser printers or Jet printers does not work, you need a special kind. Can't remember the type right now, I come back on this. We discussed it in my club, last time we had a meeting.