SEMO DayCruiser Kit, Windshield
This article was published May 17, 2012.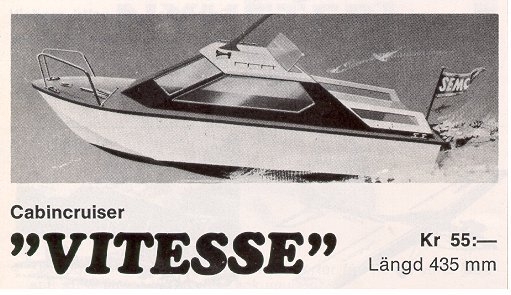 You could use the original plan right off, I choose instead to make my wind-shield somewhat different. A mix of Reinell V240, Glastron GT150 and the original plan. My template is included below if you like my design. The interior is in one piece so I can easily change batteries and such. The deck-details is made in brass. The ideas comes from different boat leaflets I collected on different boat-shows during teenage.
The picture above shows Vitesse, a Cabin Cruiser version with same hull as the Day Cruiser. Plans are on it's way to build even this version! 1976 it costed 55 SEK.. (about 6.00 EUR) Picture also show original size - 435 mm. As mention on first page, I build in double size (86 cm) to get more space for radio and Z-drives.
Methods
The side part of the wind-shield on the original plan was in one piece just 1.5 mm thick. I did make mine 8 mm thick to get a more real look of it. Also I hide the end of the wind-shield frame in it. I will also make them a little bit leaning outwards, the original is straight right up. In the stern I plan to have a big room for radio and engines, that's the reason I made the side parts so high astern.
Interiors
Interiors will be two seats in the front and one big seat in the back. In between I will put some water ski's, just for the looks.. My wife's old barbie doll was found to be just right in scale. Seats will be adapted in shape and size for barbie.
Images so far

Then I write this, the side parts for the wind shield are done but not much more. I will add them and the rest cabin parts later. Left template and they which will come later is of my own design. If you prefer the original plan, go to the first page instead. For a good estimate on how it will look like, go to the Reinell leaflet page.