Risten-Lakvik, the ATLAS locomotive
This article was published May 17, 2012.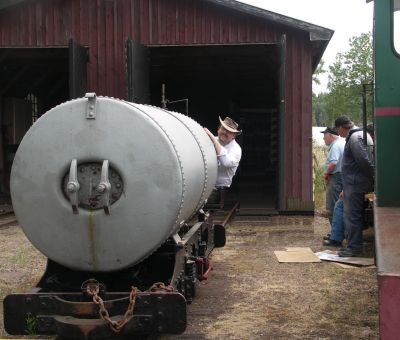 During summer vacation this year we did visit the RLJ association, mostly for the ATLAS loco, but also for the railway itself. This locomotive has been my air-pressure favourite for many years.
This loco did go only around 800+ meters on one fill, but apparently it was enough to pull a set of tubs up from the mine. Back down was done with gravity. The tank is still in good shape and has the same 7kg/cm2 max-pressure as when in use. The tank contains 3 cubic meters and top-speed is 8 km/h.
It´s real name is Långban (Atlas is the maker) and comes from the Långbanshyttan mine in the middle of Sweden. The track gauge was 600mm when built and still is. There was two of these, but the second loco has been mysteriously gone for several years now.
Don´t forget second page.
the ATLAS Drawing
Risten-Lakvik railway society has there own website which shows the building plan if you also fancy a build of it (this is a must-do-project in any scale!).
the ATLAS locomotive
the only thing NOT original is the whistle, which was added when arrived to RLJ.


























Ore tubs
According to members I talked to, these tubs are very like the ones ATLAS did pull, except that these are a bit to low on the side.