The BMC project - The TPT Convention Box, page 1
This article was published May 17, 2012.
A portable TestLoop-Photo-TimeSaver Box
Hmmm, I still needed those tracks and the space it occupied. The idea to combine the old time saver with the test layout came up!
Photos
If I was going to add a bit of scenery to my new TestLoop-TimeSaver, I could also use it as a background for photo-sessions. But photos needs lights, lots of lights. I better add both lights and walls around the layout so the light could bounce and give reflection from many directions!
But if it would contain both a loop and a time saver trackplan, it wouldn´t get tiny.. And I didn´t want several modules to connect. Even if I had the arms to carry them, I wouldn´t get enough space even at home...
Planning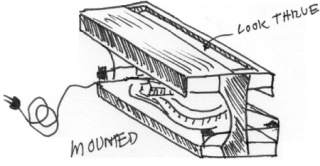 My first idea for a nice looking test-loop had been a monster!
It would never fit in a regular car and claim to be ´portable´ .. Hmmm, more thinking was needed. It was hard to decrease the size, but the height..? If I keep the size but made it thin during transport, it should work. I started sketching on a plan with loose background and walls, with a sturdy top and bottom. Finally I came up with the sketches on this page.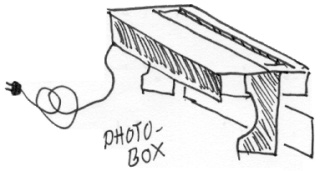 I had invented the Portable Testloop-Photo-TimeSaver box! or a TPT convention box, if you will. It´s first of its kind..
I made a mock-up in hard card in about 1/10 of the intended size in real life. By doing so I quickly learned the lessons I didn´t want to learn later when it was time for cutting lumber..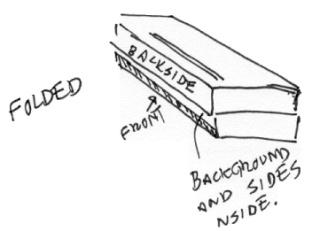 The first sketch shows how it is supposed to look like when it is mounted and ready for some action. Second shows it set-up for photo sessions when the background doesn´t match the model, and third shows it packed for travel (or storage...).
All loose parts goes inside between top and bottom. In each corner of the bottom, there is a post which prevent the top from falling down on the tracks and damage the scenery. On the backside of the bottom is a higher sheet of plywood attached, also on the front of the the top. Both these seal the box when it is packed, making all sides flat and keeping loose part inside. I should have some kind of handle to carry it in, but at the time of this writing, that is not decided yet.
Trackplan
The trackplan was easy! I had for a long time wanted to build my own version of Steve Bennetts blackdog mine, same idea as Brian Fayle used on his very nice Red Fox layout. But since my main course is Hf and Hn15 only dessert, I wanted both on my plan. So it´s actually TWO loops.. The outer one is Hf with ´blackdog trackplan´ and the inner Hn15 plan is as equal to my old timeSaver as possible. I also will elevate the Hn15 a bit so it will stand out better and so they could interchange goods.
The Mockup