BMT - Logbook February 2007
This article was published Feb 01, 2007.
Match Crates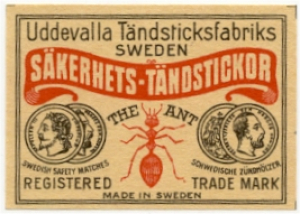 My match factory must have something to deliver back to the waterfront. Here is my first crate I built in 7/8in scale! In real life each crate contained 7200 match-boxes. The label on the side is a real one I scanned and decreased to about 40% and then printed out again on a colour printer. The Anneberg factory (AOJ) who was a rather small factory, made 140 crates per day. An AOJ wagon did take 20 crates and the connecting standard gauge wagons did take 105 crates each. If I will make 139 more crates is questionable..., but a few more it must be ... ;-)
If you are interested in a couple of crates of your own, the correct measures downscaled to 7/8in scale is; Length 73mm, Width 40mm and Height 44mm (1000 x 550 x 600mm).



Closed Box Wagon
The closed box wagon is built on the same type of chassi as the flat last month. It has room for 6 crates, but if the roof was just a bit higher it would contain 9 of them. I actually tried to raise the roof, but it looked almost like caricature if I added two more planks on the side. This looks much better.






Flat with high ends
This is another type I have thought about building for a long time.



Tank wagon
Inspiration for this wagon comes from Bill Wilson's Wazoo Island. A very nice Hn18 railway (1:24 scale on On3 tracks) there a similar wagon existed. The original was a weed killer, but mine turned up more like an ordinary tank wagon.