BMT - Logbook March 2009
This article was published Jan 01, 2009.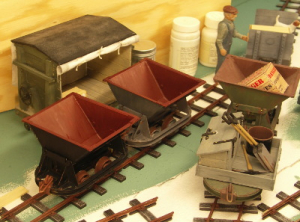 This month I have continued assembling the remaining skips and flats plus started on the factory buildings.
Simply78 kits
The rest remaining skips are now assembled. In total I now have 6 skips and 4 flats.





















Modelearth kits
kits from Simon Harris. Not much building on these, just glueing together a few parts, but I just had to have a few of these cause of the good looking design.


Boxes
Rob Bennett in UK kindly helped me with very nice boxes to my factory. Now I just need to multiply them..

Sawmill
Next when the kits got finished I started on the sawmill beside the factory.