BMT - Logbook February 2008
This article was published Feb 01, 2008.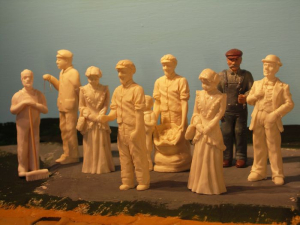 Status 3rd of March; Main layout structure is done, only smaller paint finish things to do on the fascia. The main landscape shape is set, only needs surface grass, sand etc. All sleepers cut, steel-brushed and stained. Next is spiking of the rails and making points (switches). Possibly I need to take a brake with the tracks and continue on scenery and bridges. Only have parts for three points and that is not enough, also needs more points for next module, the Borkum Factory module. Here is some pics taken during February.
Modeltown Figures
I made a second order to Modeltown. Suddenly my population increased over 100% .. Like these alot. The two sitting figures needs some work before I can use them (way to long legs), but except that they are quite good!



Walnut Creek, front side with the general store












Walnut Creek, back side with the mine
After the plywood sheet with reinforced braces added, I put on some levels of foam. After that I covered them with old bedsheets. Put them on in small pieces and drained them carefully and slowly with a 50-50 mix of water and white glue, plus a few drops of dish wash solvent. I used one of the old glue bottles to mix and add with. Doing so I got good control of how much mixture I added. When dry I got a hard shell to continue work on. Used ordinary putty from my local hardware store to add some shape and texture to the mountain walls. Painted once to better see how it looked. There is where I am now. Next is to start make it look really good by adding woodland scenics materials and fake water under the bridges.
















Handspiked tracks