BMT - Logbook November 2008
This article was published Nov 01, 2008.
the General Store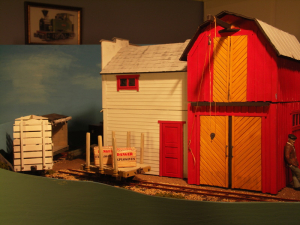 The General store is in 'principal' finished... Will now wait a bit before I do any more detailing.

















the Borkum Factory shelf layout
Started on new plans for the next layout. Since even my space is limited, I wanted to make the best use of the space I have. Below first picture is an idea on how to make the layouts replaceable, but displayed under the same background and lights. Each new layout I build will only take up space needed for a sheet standing up on the side. With only plywood under and around each four walls for stability, a layout will also be very light and transportable. Even if complete box could be used, some layouts could also be smaller for special purposes.