BMT - Logbook December 2008, part 1
This article was published Dec 01, 2008.
Borkum Match Factory Shelf Layout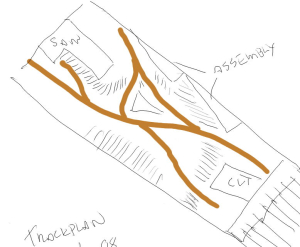 Started on the new layout, the Borkum Match Factory shelf layout. a few shots and sketches during planning. The lightbox is finished and started on the first layout.
This is a long term dream for me. All the way back from the 70s when I stopped collecting match-boxes and started with trains instead, I had this idea that I should combine these interests in a railway with a match factory as it's main industry, and here it is finally coming true!
This month I had so much to present, I had to make two pages so don't miss second one!
inspiration pictures from last vacation
These pictures are from a preserved casting shop, down south of Sweden. Part of this building will be on my layout.








a few sketches from the planning
These sketches are made with a digital sketchpad connected to the computer. A bit shaky in the beginning, but I am learning..











... On next page, see it come alive!