BM Logbook June 26th 2012 - A small shed for loco supplies
This article was published Jun 01, 2012.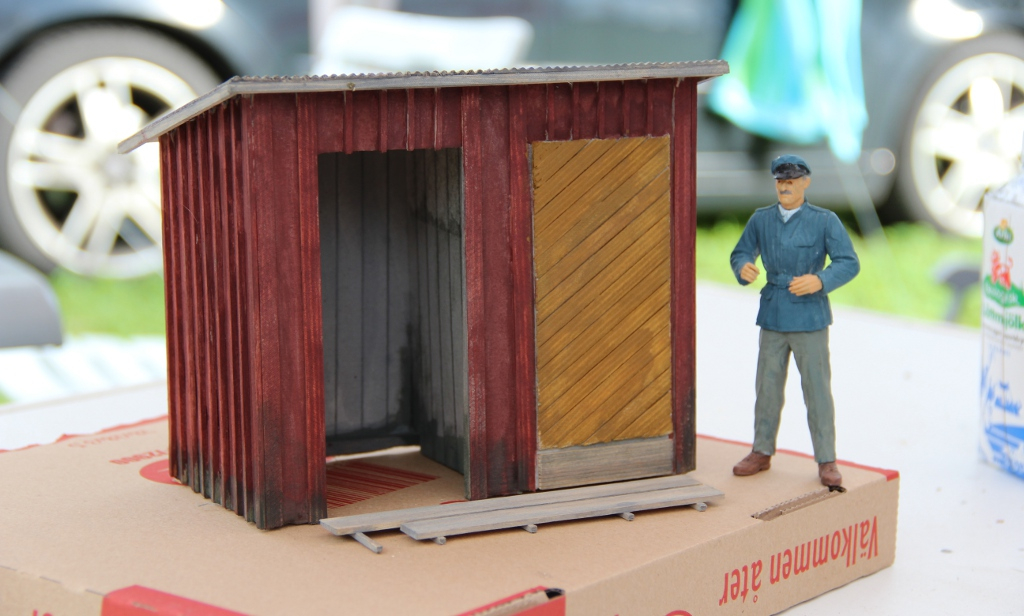 Last days I have been working on this little shed as a side building for a future loco shed or as a standalone building at a flagstop or equal.
As you can see on the pictures this is just hardcard and some wood strips. The roof is a piece I had laying in a box for years, found it putting down tools and materials to have with me on our vacation.
After assembled all pieces I first added a graywash over complete building. It was made with a bottle of Tamiya middle gray added to 2 dl of windshield washing liquid. When dry I mixed 1 part red, 1 part middle brown and about 3-4 parts of windshield liquid again, to paint the walls with. The yellow door is done with 1 part yellow, 1 part light brown and maybe 10 parts of windshield liquid. I use this instead of water because it does not effect the hardcard or wooden strips, but still allows me blend a very thin mixture to paint with.
Last I took 1 part dark green mixed with maybe 5 parts windshield liquid. This I used to simulate algae at the bottom edge around the building. I wanted it to look like it been around for a long time outside.
Still need to fix the window and a doorknob for the door. Maybe put a rusty bar over the door instead and fix it with a padlock, it would make it look less permanent. The roof also needs more colour to simulate corrugated alu/iron sheets.
The paint is still wet on last pictures, when dry the colour will look more even.
/Henrik