90mm - Vacation Shed
This article was published Jul 19, 2014.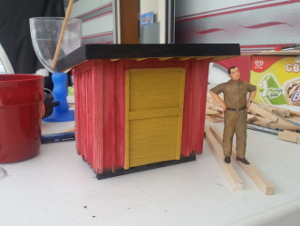 On each summer vacation I have my little toolbox and materials with me, this year was no exception. This time I built a little oil shed or whatever shed needed for my little railway. I got very satisfied with the wall colour, but I am not so sure about the rest. The roof tiles got more orange than the typical tile colour we have in sweden.
The colour of the corners and the door says a bit about which county in sweden the prototype comes from. In this case (or as usual..) I did a look-alike, but still nice to set them to a specific area. Which to be decided later.
pictures