BMT - Logbook March 2006
This article was published Mar 01, 2006.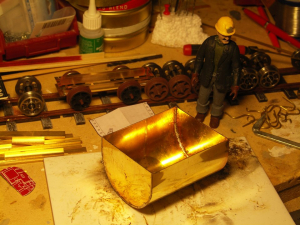 Here is the projects I have been working with this month. Still nothing done on the coach, but I will, the interest is still high. The water tower is almost finished only smaller details like handles and ladder remains.
The coal wagon was a test on how big it would be in 7/8 scale and in general the appearance. Eventually I want to build a string of these, but not sure yet on which type to use.
Coal Tub
A free interpretation of Tim Stolle's great plan in Jan-Feb 2003 Gazette.
This was a test to see how it would look as a model. When I made up my mind, I will make a batch of these.


Mariefred Water Tower
This tower exist in real life at the 'SLJ association in Sweden.
The project started as a 'sick in bed' project, second picture below shows how far I reached before I got well again. The rest is basically done yesterday (saturday 25/3).