BMT - Logbook April 2006
This article was published Apr 01, 2006.
Couvert sur bogies Pechot, secteur de Moourmelon, type A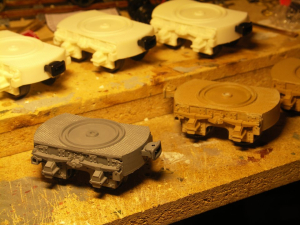 Pechot bogies. These will fit under two new projects. First a WW1 Moourmelon closed wagon which I am building in my scale at the same time as Claus Nielsen in Denmark are building his in 1:35. See plan 53 in Dr. Christian Cenacs perfect drawing collection (if you still miss it, see my book reviews). We aim to build as equal as possible, except that I need to alter slightly since my prototype gauge is 18inch and he builds for correct 600mm.




Plate-forme des ateliers de Suippes sur bogies Pechot, Model GS type C
Second project is a work caboose, also with origins from french equipment during WW1. The prototype for this are in Dr. Christian Cenacs book, on plan 45.



Steve Bennet Imitation
In spite the fact that I am deep in the currect project and also have four prev un-finished projects, yesterday I got staring on one of Steve Bennetts nice little Gn15 mine tubs. I realized that if I did double all measures I would get size for 1:12 but since I aim at 18inch rails and Steve's models are for 15inch, the result would be just right. Here is a short story on how I did it.