BM Logbook Sept 22, 2013 - R/C for model trains
This article was published Sep 01, 2013.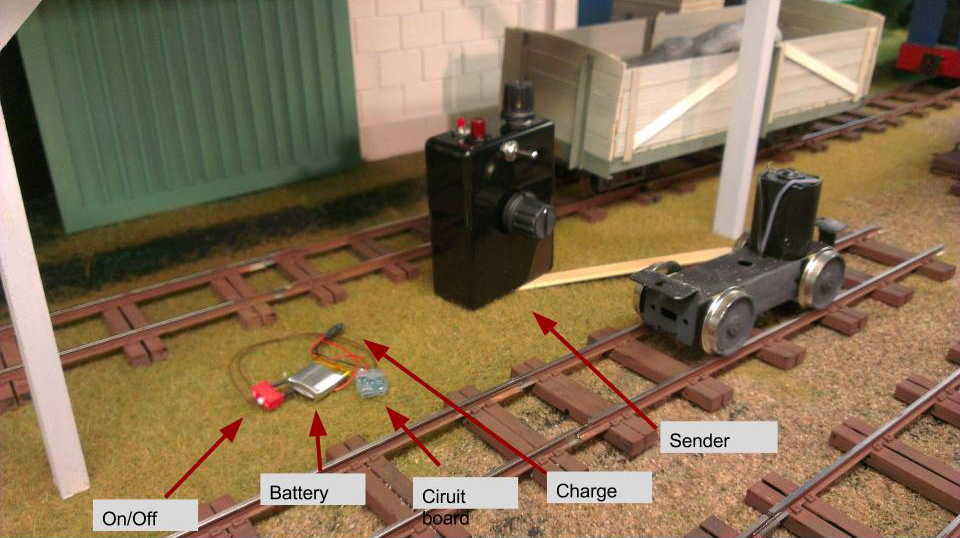 I decided to choose the RCC kit from The Model Works Australia, run by Bernard Snoodyk. The direct link to the page is here.
DCC in all it´s glory is of course nice, but it is way to complicated for my needs. I only wanted to get rid of track power and for that it is great. My only wish is that they will include sound in a future update..
It runs like a crawling cat on the tracks, or off tracks for that matter .. since it has it´s own power onboard. This is just a test to see how it works. Next is to do a proper installation in a locomotive.
The Tx21 kit
Observe how tiny this is !! Compare with the track which is 32mm gauge. Does easily fit into any locomotive down to HOe scale (HOn30), maybe even smaller if the type of loco has room for it. In my scale (1/17) I can install it in just about any type of vehicle ..

The kit I bought is called Tx21 and controls up to 5 locos. It feeds up to 3.7 volt. Price is (Sept.2013) $A 155.00 plus P&P. For me it costed 118 euro including P&P from Australia to Sweden. They take paypal.

There is another bigger kit called Tx22, it controls up to 12 locos and feeds up to 12 volt.

Both kits sends via 2.4 GHz, but other frequencies can be set if you specify in your order.

Sound is not included, but is considered in a future release.

Here is a flyer document they sent me (converted to pdf format).

No connection to the Model Works, I am just a happy customer.



Connection to Deltang
I asked them about there connection to deltang and got the following answer ;
"The TrainworxOz RC system is indeed based on the Deltang elements since the entire train operation, e.g. the receiver chip and the controller was developed in close cooperation venture between Deltang and The Model Works Australia.
Deltang continuous to sell the individual components, whilst TMWA markets the system under the TrainworxOz label offering a complete installation and ancillary components, such as a complete wired ready-to-run system, batteries etc. In addition we offer a service of matching the installation to suit individual locomotives etc, which is not available from Deltang."
the video
If below little video doesn´t work for you, right-click this link and select "Save Link As" to see it locally instead. It´s a normal .mp4 file made on my phone, 23 seconds long.