Borkum Match - Display Twins, w tracks
This article was published Dec 31, 2014.
Now they got tracks and are (almost) finished, except missing rail spikes on the 18in gauge module. I couldn´t find my stash so have to order more.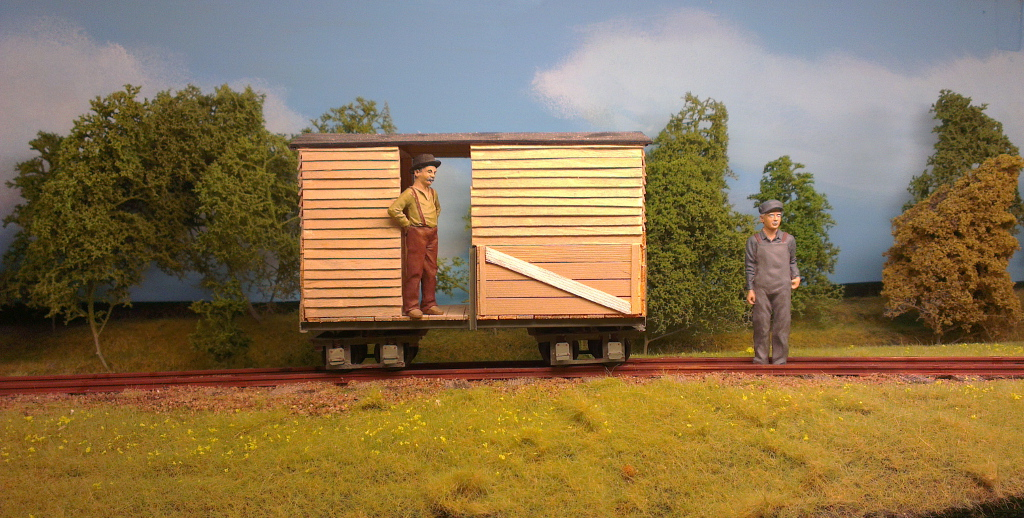 24in gauge module
Both modules are using PECO SM32/16mm scale track and since this one already are in correct gauge, I only weathered the track and glued it in place with ballast.




first usage of 24in gauge module







22.4mm gauge module
This module has the S scale std gauge at 22.4mm, which I am using for 18in track in my scale. I did remove the plastic sleepers and made a few new ones in brass, which I soldered in place in about 15cm between each.
The sleepers are made of basswood which I brushed with a steel brush in my motor tool. Could be done with an ordinary steelbrush I guess, but with a motor tool it goes much faster. After that a mix of middle gray, flat medium and a few drops of brown, painted on. A few small trees and leftover sleepers as garnish finish it of nicely ..







first usage of 18in module
Have not built any vehicles in this scale/gauge combination yet, so I borrowed a wagon in Hf scale I made a few years ago, which also are for 22.4mm gauge track.